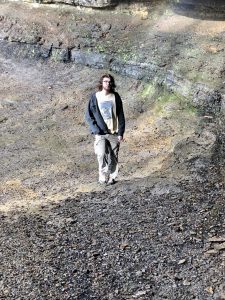 We're thrilled to announce that Carter Rekoske has won this year's Dan Veach Prize for his poem, "Prayer for Gratitude."  He has won $100 and his poem will be published in the upcoming Fall issue.
Carter is a 21 year old creative writing student at Bryan College in Tennessee. He won the poetry award in his school's 2022 and 2023 annual literary contests and will be published in forthcoming issues of Listening and Black Fox Literary Magazine.
We want to thank everyone who participated, and send special shout out to our Finalists and Honorable Mentions!
The Complete List of Finalists
Alejandro Aguirre, "Elizabeth Bishop's Arrival at Havana, 1955"
Gospel Chinedu, "Progeny"
Gaia McCune, "A Spring Morning"
The Complete List of Honorable Mentions
Amad Aamir, "Letters I Keep Writing to the Sea"
Daniel Barry, "Senior Week"
Jayant Kashyap, "Nilgai"
Chiwenite Onyekwelu, "Duplex for My Father"