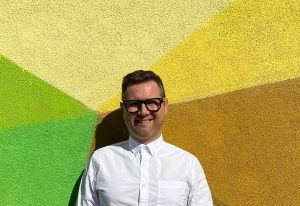 We're so excited to share that Kareem Tayyar wins this year's International Poetry Contest!  Kareem wins $1000 and publication in the Fall issue.  Victoria Chang was the final judge.
His most recent collection, Keats in San Francisco & Other Poems, was released in 2022 by Lily Poetry Review Books, and his work has appeared in Poetry Magazine, Alaska Quarterly Review, and Prairie Schooner, among other publications. His novel, The Prince of Orange County, received the 2020 Eric Hoffer Prize for Young Adult Fiction, and he is a past recipient of a Wurlitzer Poetry Fellowship and the Glenna Luschei Poetry Prize. He is Professor of English at Golden West College in Huntington Beach, California, and previous books of his include Let Us Now Praise Ordinary Things and Immigrant Songs.
Congratulations to Kareem Tayyar!  And Congrats to all the Finalists
for writing amazing poetry and making our judge's life difficult!
Finalists:
Sarah Carey
Debra Devins
Page Getz Ellingerr
Michelle Bonczek Evory
Stacey Forbes
Anyély Goméz-Dickerson
Shellie Harwood
Ben Hellerstein
Brian Patrick Heston
Joann Hinz
Maxima Kahn
Margaret Lee
Katharyn Howd Machan
Meryl Natchez
Christopher Nolan
John Schneider
Jacquelyn Shah
Carole Stasiowski
Donald Wildman