We are so excited to announce the winner of the 2022 Dan Veach Prize!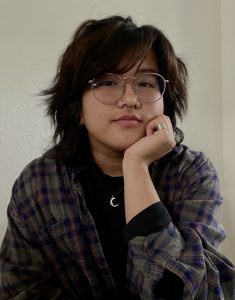 Congratulations go to Edwin Williamson, for his poem, "Each D ay I Press My Ear to the Ground."
Of his own writing, Edwin says, "My poetry often aims to blend natural and scientific concepts occurring on Earth (or off-Earth) with tender emotional experiences. I am a lifelong visual artist and musician and started writing poetry in 2018 as a freshman in college. I have always loved science but never found myself able to pursue any of the more technical fields academically. The kind of poetry I've been generating over the last few years, I feel, comes out as the product of what I can do as a creative individual and of what we should all be fascinated with as human beings on this planet."
Edwin will have his poem published in the Fall 2022 issue of Atlanta Review and he wins $100 prize.
Congratulations also to our finalists!
Alejandro Aguirre, "Berlin Candy Bomber"
Gigi Cheng, "Obsidian Fish"
Hana Saad, "I cut down to the core"
And thanks to everyone who entered the contest.  It's exciting to see so many younger folks writing and sharing their poetry.