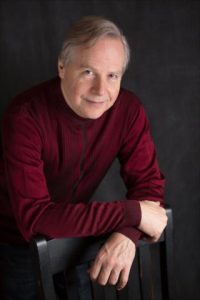 We are so excited to share that this year's winner our annual International Poetry Contest is Kurt Luchs, for his poem "Suzie."
This year's judge was Dan Vera.
Kurt wins the $1000 prize, and his poem, along with the wonderful poems by the other Finalists, will appear in the fall issue.  Congratulations to Kurt and to all of the Finalists!  You make Atlanta Review awesome!
Kurt Luchs has poems published or forthcoming in Into the Void, Right Hand Pointing, and The Sun Magazine. He won the 2017 Bermuda Triangle Poetry Prize, and was the First Runner-Up for the 2019 Fischer Poetry Prize. He has written humor for the New Yorker, the Onion, and McSweeney's Internet Tendency, as well as writing comedy for television and radio. His books include a humor collection, It's Funny Until Someone Loses an Eye (Then It's Really Funny) (2017 Sagging Meniscus Press), and a poetry chapbook, One of These Things Is Not Like the Other (2019 Finishing Line Press). More of his work, both poetry and humor, is at kurtluchs.com. He lives and works in Kalamazoo, Michigan, where he has no outstanding warrants.
The Finalists:
"Mexican Tongue," JD Amick
"[Letter of Love] to Ojīchan," Aozora Brockman
"Self Portrait with Rubble," Sylvia Foley
"A pledge to the dead requires no proof," Jennifer L. Hollis
"Corpse," Dana Jaye
"Meditation on a Trash Fire in My Backyard," Robert J. Keeler
"Quantum Heart," Kathleen Kirk
"Waiting for Mother's Geraniums," Pingmei Lan
"One Intimate Morning," Belle Ling
"Nighttime in Jericho," Jo-Ann Mort
"Stones without People and the Art of the Mulberry," Adele Ne Jame
"Consumption of a Black Hole and Sweat Bees," John Nieves
"Thin Places," Edward Nudelman
"Thought Experiment," Edward Nudelman
"Apples, Crabapples," David Rock
"Sometimes, Briefly," Kelly Rowe
"Unscrolling," Joan Roberta Ryan
"Spring Freeze," Joan Roberta Ryan
"Dead Woman's Hollow Road," Nicole Santalucia
"What White Lies Beneath," Heidi Seaborn
"Prelude to a Resurrection," d.r. shipp
"She Zuo Bin's Rite of Spring," Mary Spalding
"Where We Call to Nest," Felicia Zamora
"Turbulence: Night Flight to Cairo," Kristin Zimet
Congratulations again!